11.27.2013
Today's tidbit: "Whatever you may be missing right now – a person, a place, a feeling – whatever it is, have peace and take heart – remember that any goodbye makes room for a hello." — Kristin Armstrong
Stay humble. Be thankful. Love & live. Thanksgiving is the best time to remember, thank and appreciate the many blessings that life brings you.
Remember last year? This has certainly been the year for change and transition… a time for letting go, saying goodbye and learning to start a new chapter. I'll reflect on 2013 in January, but for now I wanted to pause and reflect on everything I am thankful for!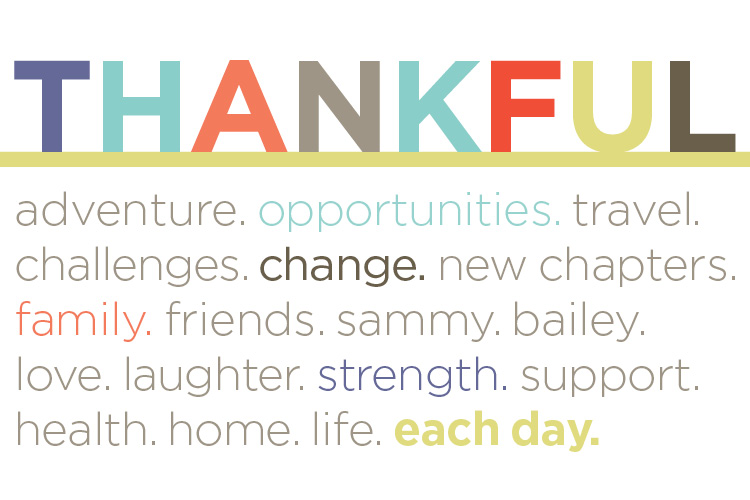 So don't be frightened, dear friend, if a sadness confronts you larger than any you have ever known, casting its shadow over all you do. You must think that something is happening within you, and remember that life has not forgotten you; it holds you in its hand and will not let you fall. Why would you want to exclude from your life any uneasiness, any pain, any depression, since you don't know what work they are accomplishing within you? — Rainer Maria Rilke
Every struggle shapes who you are and even if you don't understand it something within you is changing. I am trying to be thankful for the hard times because they can only make you stronger. Everyone has challenges to face and obstacles to overcome. No matter what you're going through, you have to step back and put life in perspective – to remember what you have and not take anything for granted. I saw this first hand in South Africa. One day walking around and interacting with kids in a township (blog post to come) was a huge wake up call and such a humbling experience! Many of us complain about things that are so trivial in the big picture. So, although for me it has been a really rough year, I know I have grown tremendously and it could be much worse! There is so much to be thankful for. What are you thankful for this year?
Wishing you and your loved ones safe travels and a very Happy (almost) Thanksgiving!